The Star – Specials at Saisaki and Shogun
Welcome the Year of the Monkey with abundance when you dine at Shogun & Saisaki – where everyone can buffet with great promotions and offers lined up. Affordably priced, cozy ambience and a wide range of cuisine on the buffet spread which consists of Japanese, Korean, Chinese, Thai, Western and local delights. Fabulous entrees, appetizers, delicious hot & cold dishes with mouthwatering desserts are part of over 250 dishes to select from.
The Japanese menu offers a wide selection of fresh Sashimi and creative fusion sushi, temaki & hand rolls with multiple styles, ingredients and preparation methods that fit all taste buds.  It offers a wide range from noodles (ramen and soba), karaage (deep fried items), yakimono (grilled items) and shabu-shabu to delectable hot dishes. Visit the tempura counter and indulge in the crunchiest, lightly battered tempura prawns, soft shell crabs and assorted vegetables.
Guests are delighted, as the Teppanyaki Chef prepares succulent lamb, beef, poultry, squid, prawn and varieties of vegetables served piping hot ala minute. For seafood lovers, you are sure to find a favorite catch among our extensive seafood range of prawns, salmon, cod fish, mackerel, eel, mussels and all-time favourite, oysters from serving it fresh to various kind of preparation methods be it baked, steamed and blanched with specialty sauces and toppings. Soup tureens are filed to the brim and include the "Buddha Jump Over the Wall", shark fin, oxtail, sup kambing, miso and tom yam.
"Grand Prosperity Japanese Yee Sang"
Grand Prosperity Japanese Yee Sang is the main highlight during this period and is available from today (Jan 22) to Cap Goh Meh (22nd Feb). The array of shake (salmon), chuka kurage (jelly fish), chuka wakame (seaweed), chuka idako (baby octopus) with a wide selection of yee sang ingredients to toss while ushering in this lunar festival. The best part is you get to indulge to your hearts content and select what you like on your plater. Those particular about the ingredients can dish up their own smaller portions after the group toss, of their favourite ingredients for second helpings!!
The restaurants also cater for wedding dinners, full moon celebrations, corporate functions, company annual dinners, farewell parties, birthday parties and old boys re-union gatherings. SHOGUN2U the on-line delivery food service right to your doorstep, caters to those who prefer to dine in the comfort of their own home. It is also well known among the corporate sectors and schools for office lunch meetings, teacher's brunch & tea-breaks and executives working late at the office. Log on to www.shogun2u.com to place your orders and use our Promo Code: "CNY40" for 40% OFF your total bill.
Watch out for Shogun's Reservation portal to be launch soon, with greater offerings in the pipeline to be revealed keeping to its brand promise, where everyone can buffet.
Call Saisaki at Wisma UOA II (03-2166 3728), Shogun 1Utama (03-7726 3770), Shogun Sunway (03-5622 1831). Like the Facebook page at Shogun2U and Saisaki Japanese Buffet or visit www.saisaki.com.my for  promotional updates.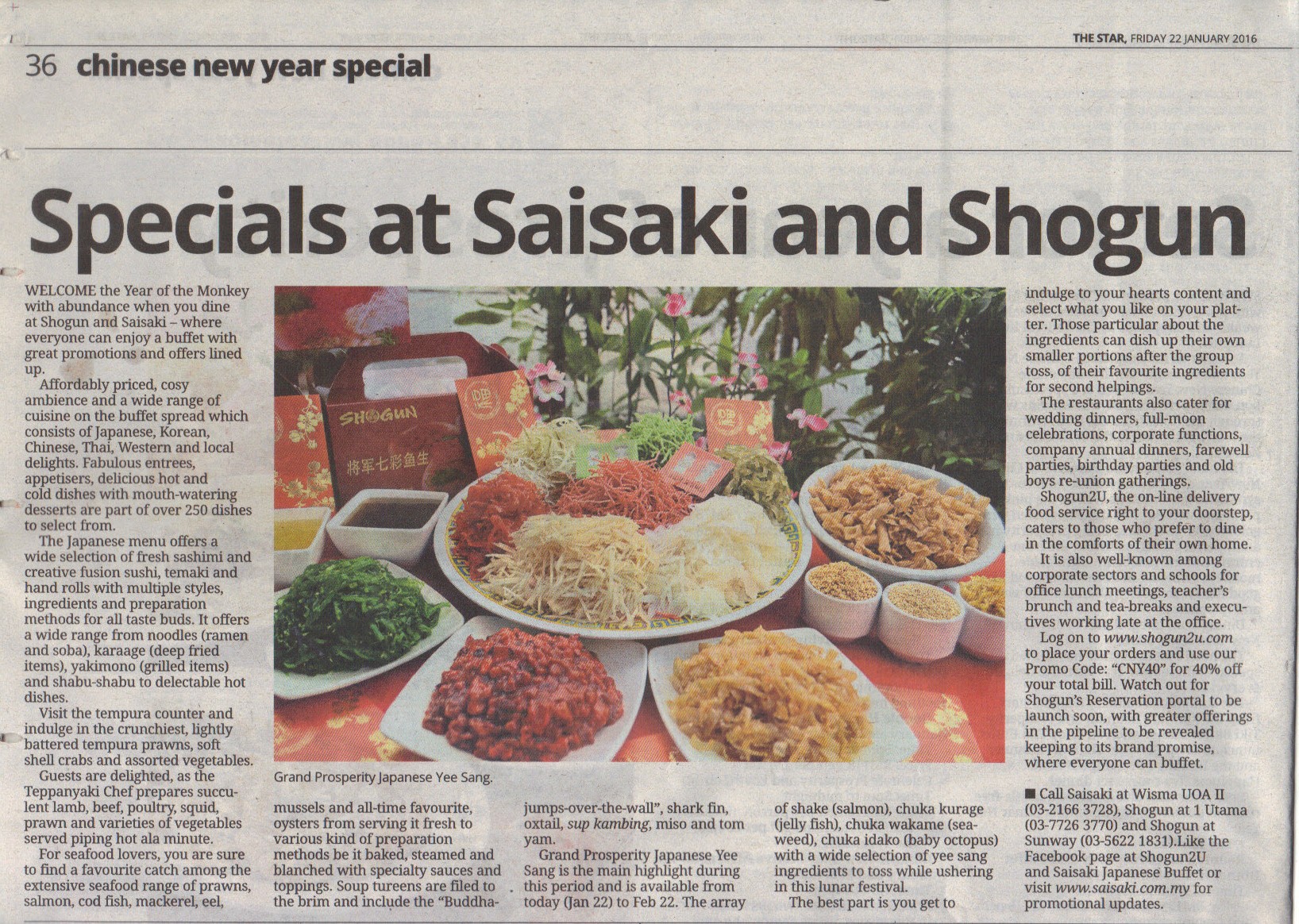 Published by The Star – Chinese New Year Special; 22nd Jan 2016