The Star – Grand offering & Delectable delights
Toss with Grand Prosperity Japanese Yee Sang for an auspicious year ahead at Shogun and Saisaki, where tradition is to serve yee sang as part of the buffet spread in celebration of the Lunar New Year. The best part is you get to indulge to your hearts content and select what you specifically like. The unique Japanese Yee Sang boasts an array of Shake (salmon), Chuka Kurage (jelly fish), Chuka Wakame (seaweed), Chuka Idako (baby octopus) and Ebiko Awabi  (sliced abalone and salmon roe) accompanied with a wide selection of yee sang ingredients. This will be available till Chap Goh Meh (Feb 22).
Shogun and Saisaki ensure quality buffet spread at affordable prices. There will be two sessions this Chinese New Year's Eve Dinner, the first session starts from 5 to 7.30pm at RM75 nett per person and the second session from 7.45 to 10.30pm at RM88 nett per person. Business hours have been extended to cater for the second session. On the first and second day of Chinese New Year (Feb 8 and 9) the adult buffet is priced at RM73.60 nett per person for lunch and dinner while senior citizens above 55 years old pay RM55.20 nett per person when they show their IC at the reception.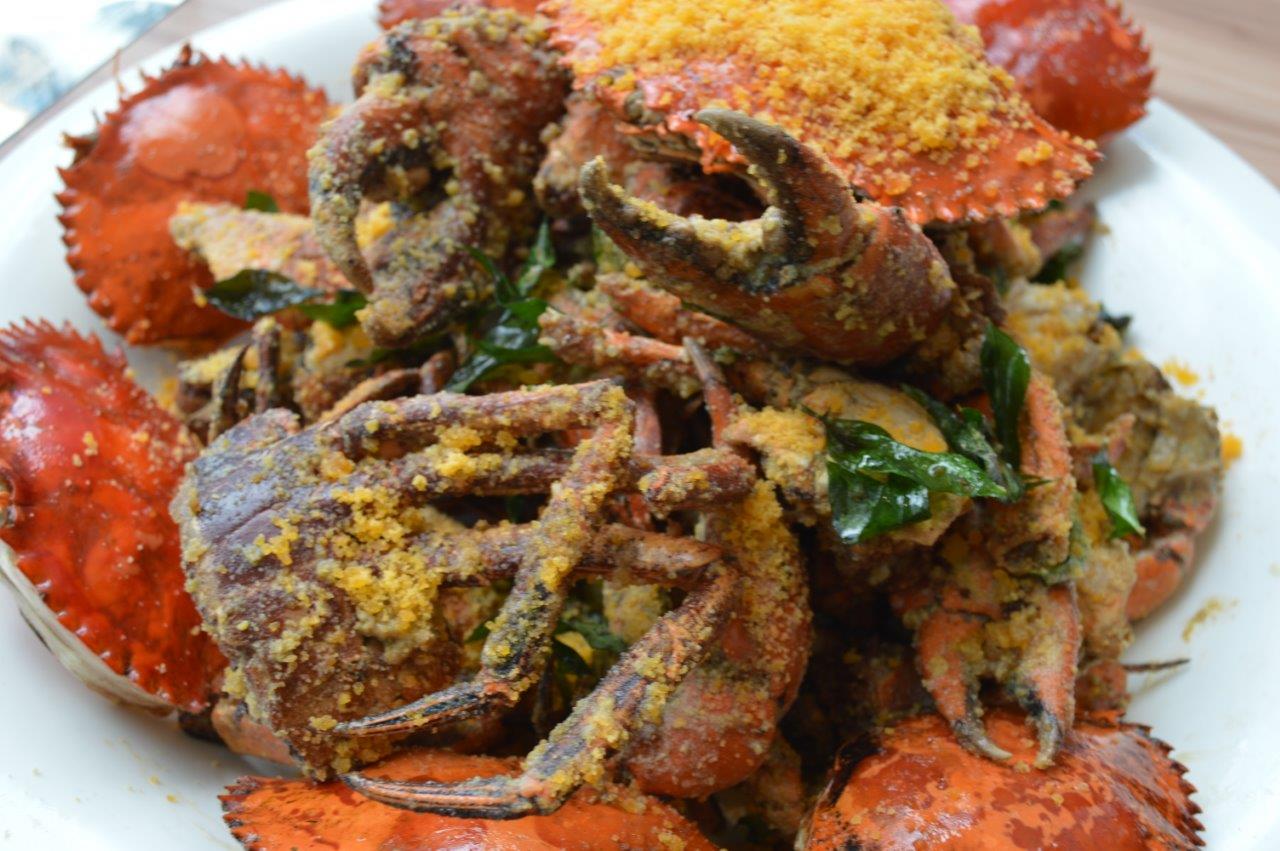 Yummy Salted Egg Crab waiting to be enjoyed.
Relish the mouth-watering menus specially crafted by Chinese executive with 10 auspicious dishes to welcome the prosperous Year of the Monkey. Braised Sea Cucumber with Slice Abalone and Mushroom (Chiew Choy Chun Poh), Salted Egg Crab (Choy Yuen Kwan Kwan), Giant Bamboo Clam (Poh Poh Koh Sing), Steamed Norwegian Cod Fish Head (Hung Wan Tong Tau), Chili Prawns (Hee Har Tai Siew), Giant Grouper (Yue Yew Loong Moon), Braised Mushroom, Oyster & Broccoli (Hou See Fatt Choy), Roasted Chicken (Kam Kai Poh Hei), Longevity Noodles (Chun Fung Moon Min), Golden Fried Rice (Wong Kam Moon Tei)
Enjoy affordable prices, cozy ambience and a wide range of cuisine on the buffet spread consisting of Japanese, Korean, Chinese, Thai, Western and local delights as part of over 250 dishes available.
Current in-house promotions (Terms & Conditions Apply);
Loyalty Card 2016 entitles you a FREE buffet and exclusive prices to purchase our VIP Card when you collect loyalty stamps for every RM100 spent at the outlets.
Prosperity Japanese Yee Sang is retailed at RM39.80/set (10-12person) available for take-away and makes great gifts for the festive period.
Blissful Pack – a combination of one box of Prosperity Japanese Yee Sang and four boxes of CNY Snacks for only RM75.80 after discount.
Huat Huat Huat Huat Package – Ten fabulous Chef's homemade Snacks & Cookies available at the outlets and Shogun2U website for RM88.88
The restaurants also cater for Wedding dinners, Full moon Celebrations, Corporate Functions, Company Annual Dinners, Farewell parties, Birthday parties and Old Boys Re-union gatherings. SHOGUN2U its on-line delivery service, delivers your orders to your doorstep. Just log on to www.shogun2u.com to place your orders and use our Promo Code: "CNY40" for 40% OFF your total bill. Watch out for Shogun's Reservation portal to be launch soon, with greater offerings in the pipeline to be revealed keeping to its brand promise, "where everyone can buffet".
Call Saisaki at Wisma UOA II (03-2166 3728), Shogun 1Utama (03-7726 3770), Shogun Sunway (03-5622 1831). Like the Facebook page at Shogun2U and Saisaki Japanese Buffet or visit www.saisaki.com.my for promotional updates.
Published by The Star – Yee Sang Special; 5th Feb 2016.