About Us
THE BRANDS
Saisaki™ Japanese Restaurant was founded in 1999 is recognized as the "Grandfather" of all Japanese buffet restaurants in Malaysia, housed at Wisma UOA II, Kuala Lumpur serving its diners for the last 16 years with fine Japanese cuisine and fusion delicacies. Saisaki™ carries the meaning "good omen" and often relates to a festival in Japan. Following the success of its first outlet, in 2005, the Shogun™ brand was created. The healthy Japanese Buffet Restaurant opened at 1 Utama with a seating capacity of more than 480 diners. In the year 2007 yet another branch, was officiated at Sunway Pyramid.
In 2011, the forth outlet has opened in Fahrenheit88 in August 2011, operating a Korean Buffet Restaurant, Jang-Gun. Subsequently the 5th outlet opens its doors to the public at SOHO KL, Solaris, Mont Kiara in October 10th which boast its seating capacity of over 600 diners. In 2011 & 2012, Grand Saisaki was presented with The Brand Laureate Award for Best Brands in Food & Beverage – Japanese Cuisine. The SHOGUNATES serves more than 200 variety of healthy Japanese, Korean, Chinese, Thai, Western and Local Cuisine. Our tag line speaks for itself, "where everyone can buffet"
Shoguns' are generals in the Japanese army and incorporating this in the brand logo signifies a great resemblance to heroic warlords, indicating a readiness to conquer prospective opportunities worldwide resulting in new brands to be developed in the near future. Watch out for SHOGUN XPRESS operating kiosk and delivery services, SHOGUN2U.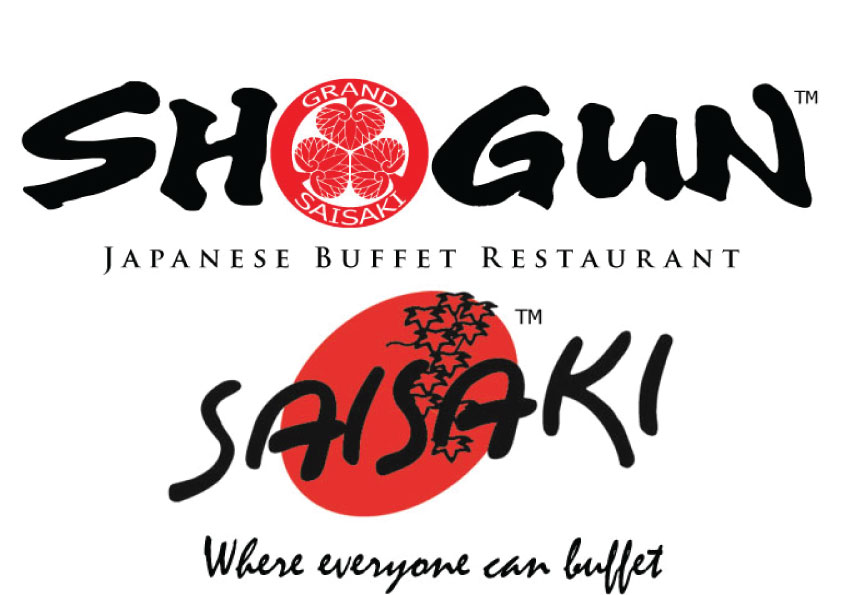 THE COMPANY
The brands are wholly owned and operated by Grand Saisaki Sdn Bhd. Dato' Sri Michael Chong, patron of SAISAKI™ & SHOGUN™ is the Managing Director of the company. The founder of Glory DMC Holdings and Glory Wheels Sdn Bhd since 1985, a property investment and luxury automobiles organisation. Its Head Office is now located in Wisma Shogun, Kuala Lumpur and has total manpower strength of over 400 employees under its operations.
OUR VISION
Committed to seeking growth and prosperity by achieving a sustainable competitive share of our industry in the international marketplace. We will strive to reach our goals by meeting the needs and expectations of our guests' with continuous improvements in quality, productivity, value, new product offerings and guest satisfaction.
It is our intent to develop quality partnerships with our employees, suppliers, guests' and the community in which we operate. We wish to continually set standards of excellence, both personally and professionally, which exemplify our dedication to our goals and to the fulfillment of this vision statement.
OUR MISSION
Fullest dedication to the production of the highest quality products to meet the needs and demands of our guests' while achieving an acceptable return on investment. This will be realized both internally and externally by continuous communication between management, employees, suppliers, guests' and community, and by ongoing improvement of processes, systems, equipment and use of human resources.
We intend to expand our presence in the global market by the development of new brands and iconic dishes in our wide variety of product lines as well as by exploration of other opportunities for growth when presented.

"A lifestyle choice to dine"
The Lotus flower is symbolic of rebirth, of all that is true, good and beautiful, representing good fortune and peace. Three Lotuses are combined in a circle is portrayed in the company's logo. The circle signifies the aspirations of global recognition and expansion. Each flower represents diversified strength, innovations and teamwork. As the lotus flower grows up from the mud into an object of great beauty, people also grow and change into something more beautiful. Symbolically represents the struggle of life at its most basic form for people who have gone through a hard time and are now coming out of it. Like the flower they have been at the bottom in the muddy pond, but have risen above this to be an object of beauty. Thus a lotus flower or blossom denotes a hardship of the brand evolving into greater heights and its maroon color imbues energy which brings prosperity in abundance